WHAT ARE PHYTOSTEROLS, WHICH BENEFITS DO THEY PROVIDE AND IN WHICH FOODS ARE THEY PRESENT?
HOME/NEWS/What are phytosterols, which benefits do they provide and in which foods are they present?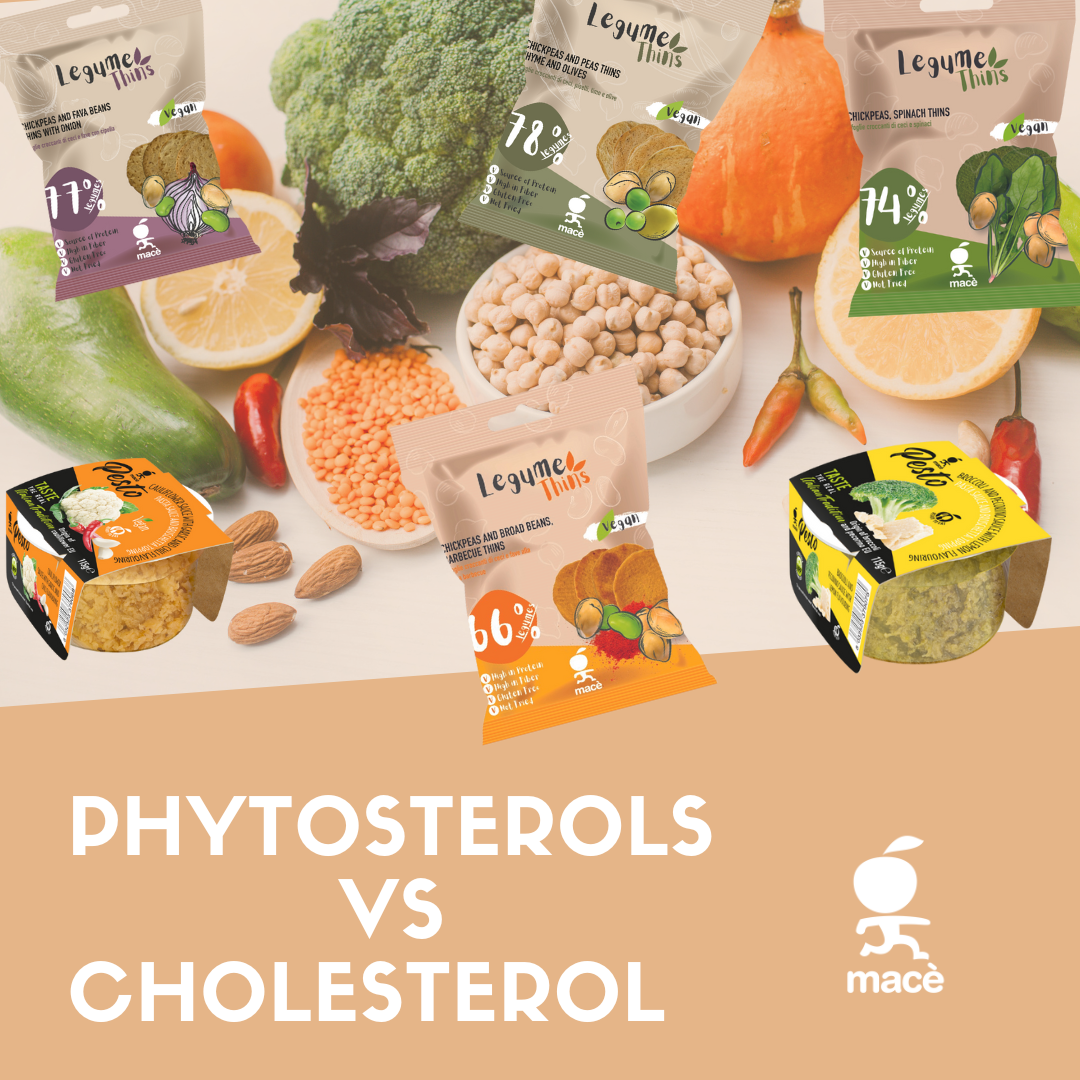 They reduce the amount of cholesterol in the blood
What are phytosterols
Phytosterols are plant-derived sterol molecules contained in foods. The most common phytosterols include beta-sitosterol, campesterol and stigmasterol.
We are already very familiar with another sterol molecule: cholesterol, which unlike phytosterols is of animal origin.
What are the benefits of phytosterols?
They reduce the amount of cholesterol in the blood, in particular the bad cholesterol LDL (Low Density Lipoprotein). In short, phytosterols bind cholesterol within the intestinal lumen, preventing its absorption and promoting its excretion via the faeces.
The European Food Safety Authority (EFSA) claims that daily consumption of foods containing phytosterols (1.5 to 3g) can help reduce cholesterolaemia by between 8 and 15%.
Which foods contain the most phytosterols?
A good amount of phytosterols is contained in vegetable oils, dried fruits (especially hazelnuts, almonds and walnuts), legumes (such as chickpeas, broad beans and soya beans), some seeds and fresh fruit and vegetables.
There are also yoghurts on the market that contain added phytosterols but it should be noted that these are not naturally occurring elements but are additives.
In which Macé products do we find the most phytosterols?
Here is a list of some of the Macé products that naturally contain phytosterols.
The amount of mg is per 100g of product.
- Cauliflower garlic and spicy pepper sauce (cauliflower 40mg; sunflower oil 100mg; spicy pepper 83mg)
- Broccoli, Lemon and Pecorino Sauce (broccoli 39mg; sunflower oil 100mg)
- Legume cubes chickpeas, almonds and olives (almonds 143mg and chickpeas 35mg)
- Crunchy legumes Edamame and pepper (soy 161mg and pepper 9mg)
- Crunchy nuts Cashews and paprika (cashews 158mg and paprika 175mg)
- Crunchy nuts Almonds and onion (almonds 143mg and onion 15mg)
- Legume thins Chickpeas, peas, thyme and olives (chickpeas 35mg and thyme 163mg)
- Apple, Strawberry, Banana smoothie (apple 12mg, strawberry 12mg and banana 15mg)
- Apple, Ginger Juice (apple 12mg and ginger 83mg)
- Apple, Carrot, Ginger Juice (apple 12mg and ginger 83mg)
The information provided in this blog is for information purposes only and is not to be considered medical advice. We promote an active, healthy lifestyle with a varied and balanced diet.